In our "Washzahn" (teeth cleaning) program we meet the perfect provision for a permantent beaming childrens smile. We have developed a three-step prevention program that takes into account the individual circumstances of each child. Fun and distractions are also accounted for. During the professional odontexesis we show funny clips on the ceiling to make our young patients laugh.
The prevention program consists of a three-stage cycle with one main topic per session.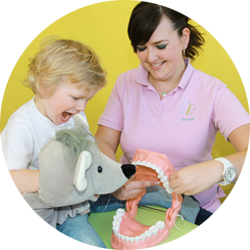 Each oral hygiene appointment begins with the staining of dental plaque because children only believe what they can see purple on white. Then we practice brushing and the correct handling of dental floss together. The rule is: The words of our prophylaxis team weigh heavyier than those of the patients parents!
Then we continue with the professional cleaning. It is completely painless and takes place in a fun and child-friendly atmosphere. We use a nylon brush and small rubber polishing goblets. For good taste we have different selections of polishing paste. Each session ends with the respective focal point.
For a dashing "finish" we varnish the teeth with a fluoride. This tooth coloured, fluoride-containing protective varnish adheres well to moist surfaces, provides stable and long-lasting protection and is also used for desensitisation of the teeth. Thanks to the 5% of the Sodium Flouride in the varnish, it contributes effectively to the fluoridation and remineralization as well as tooth strengthening.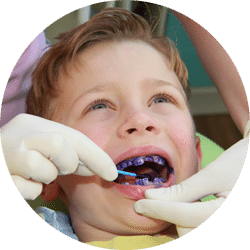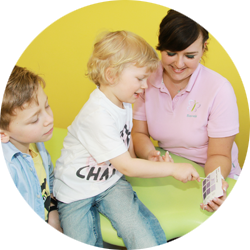 1. Appointment: Determining the caries risk with a saliva test
The assessment of caries is important to plan futher indiviudal and specific care. Besides controlling the dentition (surface structure and crowding of the teeth, conditions of old fillings, etc.), we make an assessment considering the dietary and teethbrushing habits and the fluoride apllication. A microbiological saliva test measures and evaluates the amount of dangerous bacteria in the saliva. Based on the results we give advice and tips for home.
2. Appointment: Laserdiagnostics
On the second appointment we look specifially for caries. Instead of digital X-ray images, we can examine the teeth with the caries detectore "DIAGNOdent". This laser instrument detects dental diseases at a very early stage, long before they are visable or noticeable. We can therefore detect even the smallest of caries, completely painless and without radiation exposure.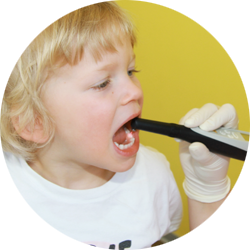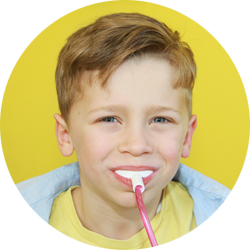 3. Appointment: Dental Splint Fluoridation
On this appointment the teeth are fluoridated with a new dental splint - the most effective way of fluoride application. Its filled with a fruity-tasting gel that acts through the scale application on all teeth and cannot be removed prematurely by tongue or saliva. A clever system of aspirating the saliva makes sure the children do not swallow anything.