Our surgery rooms maintained in joyful colors were decorated with love and tailored to the needs of our small patients.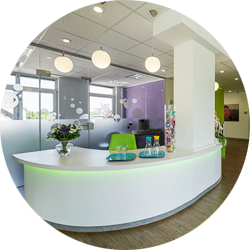 Reception
We welcome our patients in the open reception area. The counter is only as high as a table, in order that we do not overlook our small patients.
Waiting Room
Treatment of children is unfortunately not always predictable, even though we strive to punctually maintain our appointments. Should a waiting period occur the children can select between the quiet painting and reading corner in front of the large aquarium or the motley furnished play and romper corner. Why don't you have a look into our live-feed from the waiting room.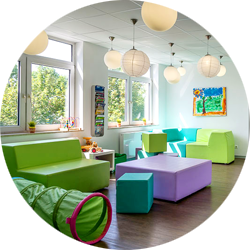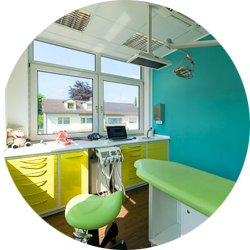 Treatment Rooms
Our colorful treatment rooms convey a relaxed atmosphere and are void of any fear-inducing items, like for instance syringes. Above the treatment couches which are made for children television screens are mounted on which exciting, age-appropriate cartoons are shown, e.g. The Little Polar Bear or Ice Age.
Narcosis Area
Following the narcosis the children may enjoy a relaxing sleep in the company of their parents. To this end two friendly, hand-painted wake-up rooms are available: The mouse room and the tortoise room – the choice is up to the kids.