Proper dental care
From kindergarten age, your child should be allowed to practise the KAI tooth brushing system. Bit by bit, your child tries to reach all teeth from all sides with the toothbrush - in the morning and in the evening. We recommend the system, which children can try out for themselves from around the age of three.
COI =
chewing surfaces + outer surfaces + inner
surfaces + cross brushing!
With the mouth wide open and on the chewing surfaces, brush back and forth with short movements. It is best to start in the upper jaw, from back to front and back.
Then place the teeth on top of each other and brush the outer surfaces with small circular movements.
Then brush the inner surfaces with the brush held vertically from red to white (gums to teeth).
When the first permanent molar comes in at around six years of age, it initially hides behind the existing milk teeth and is difficult to reach when brushing. Until it has reached the same size as the other teeth, you should therefore place the toothbrush crosswise at the back: Brush back and forth there - in the upper and lower jaw.
PLUS =
Parents brush their child's teeth cleanly from all sides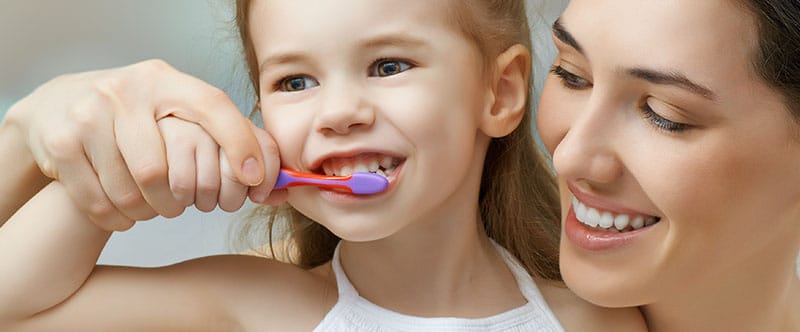 If your child is motor-skilled enough to clean their teeth themselves, it is best to let the dentist or prophylaxis assistant decide. This is usually the case when children have mastered fluent handwriting. Until then, you as parents should brush all your child's teeth clean from all sides!
Dental floss – How to use it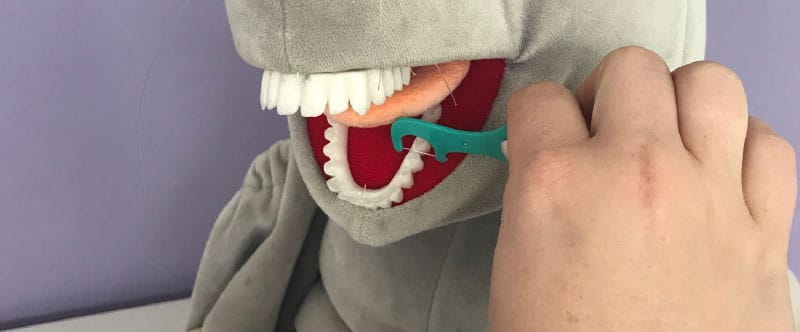 As soon as the gaps between the teeth have closed, floss should be used. The easiest way to do this is to use the prefabricated floss holders. Push these flossers into the space between your child's teeth in small sawing movements. Move them up and down two to three times along each edge of the tooth - up to one millimetre below the gum line, no further.